Like every agency within city government, the Philadelphia Police Department has taken some cuts in its budget. But 39th Police District Capt. Stephen Glenn wouldn't know anything about that.
"We're not doing any worse off," Glenn said. "With budget restrictions I don't know if the police department is hiring at the same level now. But we have more police officers since Nutter came in. More than we ever got under [former Mayor John] Street."
Glenn's not talking about just a few more officers either. He's talking about 20 more, a significant number than can affect change and strategy within the district.
"More officers mean we can shift our tactical teams to do specialized patrols," Glen said . "We try to target areas in tune to crime patterns. We find out where it's occurring, and then we're shifting our resources there."
The increase of officers in the 39th District is part of Philadelphia Police Commissioner Charles H. Ramsey's Crime Fighting Strategy, which aims to meet Mayor Michael Nutter's goal to reduce homicides by 30 to 50 percent within two to four years.
The 39th District, which includes Nicetown, Tioga, Allegheny West, East Falls and parts of Germantown; is one of nine Districts targeted by Ramsey due to high crime rates.
Glenn's confidence in the number of officers in his District contrasts with the shaky numbers of the overall police department.
As part of the fiscal year 2010 City budget, Nutter is implementing a civilian police officer hiring freeze. Civilian police officers perform any job within the police department that does not require police powers, such as forensic technicians, administrators, radio dispatchers and school crossing guards.
"Our manpower is frozen where it is right now," said Philadelphia Police Department Public Affairs Officer Lt. Frank Vanore. "People retire, get hurt, get other jobs every day. When [civilian police officers] do leave, we have to bring regular officers in, which really draws from our manpower. It all trickles down."
The police department hopes they can rely on a proposed $10 million federal grant to hire an additional 50 officers. But certain requirements must be upheld first.
For now the Police Department will have to make do with a static number of officers and $13.9 million less in 2010 than 2009. The Department hopes the brunt of the cuts will be dampened by the temporary sales tax increase in Philadelphia, the civilian police hiring freeze and overtime controls.
Vanore said Ramsey's emphasis on management throughout the Department, both with overtime and his new community policing strategy, has already begun to pay off.
Districts are broken down into geographic areas and assigned to officers, who will work in the same area daily. Officers will be able to establish trust with residents.
"This strategy gives geographic responsibility to officers," Vanore said. "When looking at resources, they're allocated in the best way [with this strategy]."
Ramsey's initiative began in the Summer of 2009t in the 24th and 25th Districts. By November all districts will operate this way.
So far the strategy is working well and has allowed for better policing despite a decreased budget and hiring freeze, Vanore said. Homicides for 2009 are down 25 percent since a 2007 spike. Violent crimes, including rape, robbery and aggravated assault; are down six percent.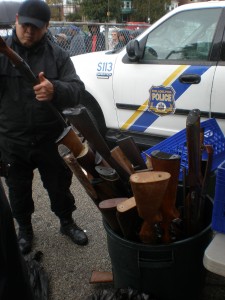 Though homicides and violent crime decreased throughout the city, the number of shooting victims has risen. In the 39th District gun violence remains a priority. This year 160 violent crimes involving guns occurred there.
"The willingness for young black males to use guns to settle conflicts is a difficult issue to address," 39th District Capt. Stephen Glenn said. "It takes a lot of effort. We have to be more comprehensive."
This means tackling every angle of gun violence by encouraging police officers to make aggressive arrests, pursuing intelligence gathered from arrests, working with the district and state attorney generals and gun and drug trafficking task forces.
Equally important is working with the community through various local organizations and City Council members to encourage gun safety and reduction. The more the community is involved, the more effective the police can be, Glenn said.
Several community initiatives that the 39th District was involved in, such as a truancy center, were cut recently due to lack of funding. This has forced neighboring Districts to rely on each other to involve residents.
The Nicetown Community Development Corporation teamed up with the Logan CDC and Philadelphia Safety Net to put on "Goods for Guns" in the neighboring 35th District on Saturday, Oct. 17.
The "Good for Guns" program began in 2007 and is run by Philadelphia Safety Net in various locations throughout the city. Residents turn in their guns for a $100 Shop Rite gift certificate and no questions asked.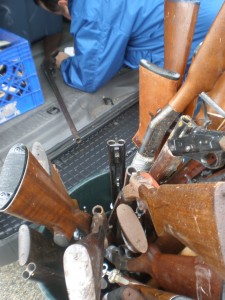 On Saturday despite the pouring rain, residents came to the Beloved St. John Evangelist Church at Broad and Bellfield streets with handguns, rifles and shotguns: 397 to be exact.
Mayor Nutter's Administration has been supportive of Philadelphia Safety Net, Executive Director Ray Jones said. But like most non-profit organizations, they received less city funding last year.
When it comes to the economy, 39th District Capt. Stephen Glenn is more concerned with its affect on crime rather than the Police Department's budget.
"Fewer jobs means more time is spent on the streets," Glenn said. "And that gives more opportunities for people to involve themselves in violent or criminal activities."
[swfobject]https://astro.temple.edu/~tua03355/goods_for_guns2.swf, 550, 700[/swfobject]