President of Historic Germantown David Young can give several reasons why Germantown is the most historic neighborhood in America: the Battle of Germantown in 1777, the first protest against slavery in 1688 and the first European-language Bible published in America.
Perhaps the least well-known reason is when prominent African Americans, including civil rights activist W.E.B. DuBois, Harlem arts patron Alain Locke and violinist Clarence Cameron White, came to Germantown for Negro Achievement Week in 1928.
The event is also the reason that a small group of Germantown residents gathered on Thursday in a historic building in Vernon Park, Germantown.
The gathering is part of two overlapping initiatives of Historic Germantown: Germantown Speaks and Germantown Works, which both aim to spread the word about Germantown's history through residents.
"Germantown Works is to promote the positive history of Germantown and… to stimulate interest in more recent history," Young said. "'Germantown Speaks' is an attempt to get younger people to talk to older residents about the more recent past."
Thursday's gathering was the fourth and final discussion in the Germantown Speaks program, which includes Germantown High School students, who ask older residents what life was like growing up in Germantown.
Marie Connaghan, who teaches history and journalism classes at Germantown High School, volunteers her students to provide a young perspective in these discussions.
"They were really tentative when we first asked them to come and interview the groups," Connaghan said. "I think they've enjoyed talking about the basic things that high schoolers experience, which is a lot of what they seem to be looking for as they document the cultural history of Germantown."
Community residents are just as eager to learn about what today's high school kids are like.
"All the conversations are distinctive," Young said. "But one thing they all have in common is that by the end of the event it turns to people asking students questions more than students asking the questions."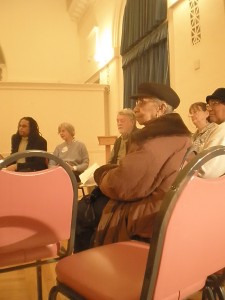 Ira Luke, program assistant of Historic Germantown and alumnus of Germantown High School, said these discussions are a way to build a stronger sense of community in Germantown.
"For me and the [current] students, it's a way for us to get to know what was going on previously in the school," Luke said. "Some of the trials and tribulations they may have went through, the good times, the bad times, ways that we can connect our stories…a way for us to share a history."
Eli Williams, 16, was one of two Germantown High School students who attended Thursday's event. He is in Connaghan's history class, and though his participation is part of his senior project, he said the discussions are fun.
"We use the same questions, but always get something different," Williams said. "I get more understanding about their life. I'm surprised by how much trouble people have had, what they had to go through in life and where they're at today."
Getting high school students to listen to another generation's stories is one of Connaghan's goals.
"I think it's important for students to interact with older people who are not necessarily exactly like them but do have something in common with them," Connaghan said. "It helps them set their sights for what their future might be like as well as learn lessons from those people of experience."
Though the focus is on learning from each other, Young prepared a short speech about Negro Achievement Week before the discussion.
The Negro Achievement Week in April 1928 featured speakers, music performances and art exhibitions throughout Germantown. At the time Germantown had a large population of both blacks and whites.
"The event proved to be quite a remarkable find when I saw this in the archives," Young said. "What makes this program quite exceptional is that people worked together across the aisles."
Working together is a theme Young stressed throughout the night. Because there are so many different cultural organizations – 93 churches, 11 community development corporations, 52 neighborhood advisory committees and two mosques – collaboration doesn't often happen.
"There's a tendency to split off when remembering the past so we have an isolated way of looking at history," Young said. "It's rare in Germantown to combine efforts."
The plethora of organizations in Germantown grew out of segregation when every public institution had to be split along racial lines. This is yet another reason why the Negro Achievement Week is so unique. The Inter-racial Committee of the Germantown YWCA sponsored it.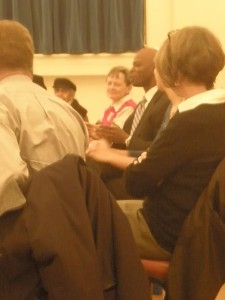 The Negro Achievement Week in Germantown was the third such week to take place. The first was held in 1926 in Washington, D.C., a second in Chicago the next year. Historian Carter Woodson created the Negro Achievement Week, which later turned into Black History Month.
Germantown's week was considered a success, but it was hardly reported and never repeated.
"This week is a program that everyone ought to know about," Young said. "Germantown is about more than colonial and Revolutionary War history. A whole other century happened [that's] just as incredible."
Carol Mack, a 60-year-old resident of West Mt. Airy, said she's been learning a lot through the program. On Thursday she was surprised to find out that 1,200 members of the Ku Klux Klan lived in Germantown during the time of the Negro Achievement Week.
"I'm glad that the history is finally being told, and people don't have to fear that they can't discuss it," Mack said. "It's great to sit down together and talk. It's something we need to do more often."
Nancy Muth, minister of the First Presbyterian Church in Germantown, agreed. A dialogue bringing residents together is the goal of the program, she said.
"The people sitting in this room have never sat together before," Muth said. "There's so much diversity, and I'm not just talking about racial but age and where in Germantown they're from."
Though Thursday was the final discussion, the program was such a success that Young and Muth hope to continue it in the future.
"If we had more energy, we'd have another four," Muth said.