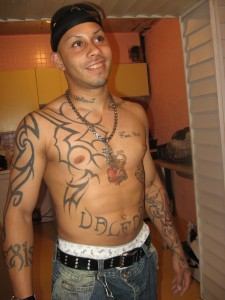 Valedan sits on an empty bucket once filled with Spackle.  He picks a paint-splattered fold up table from the floor and sets it to his right.  A big screen TV is hung on the wall to his left and a massage chair acts as a living room couch. He rests his razors and drawing pencil between a few carefully placed glass trinkets on a mirror-plated table.  His customer sits on a foot rest from the bedroom upstairs. The room is bright, as far as hallway-turned-tattoo-parlors go.
Alexis Valedan is 26 and from Puerto Rico. He moved to Philadelphia three years ago and left his parlor behind. Now he runs his trade from Fifth Street's newest tattoo shop, his friend, Clyde's, airbrushed T-shirt store.
Valedan doesn't talk much, but he doesn't have to. His words are all over him–written on his arms, legs, neck and knuckles. His back is covered and his last name is scrawled across his stomach. Every tattoo serves as a reminder of his progression.  Each piece of art is his own.  The only ink he did not draw himself are the ones on his back.
In Pennsylvania, state law does not require certification in order to be a tattoo artist.    There are strict laws ensuring that persons must have a license to own a shop and receive steep penalties for tattooing minors, but anyone can tattoo legally. Apprenticeship is a recommendation but not a requirement.
Without too much thought, Jonathan decides to get a tattoo from Valedan; he texts a few friends for suggestions. Responses range from "Fairhill Pride," to "Please don't do this," and "you should just get my signature."  He settles on a rain cloud.
Why?
"I don't know," he explains. "It just feels like I'm always underneath one."  He uses a cell phone to show the artist a Google image of cloud-clip art.
Valedan goes to the back room to work on the drawing. He doesn't look up once. When it is finished, it looks better than the internet image—it's shaded, the cloud's crooked smile is convincing, and the rain drops flow with symmetry.
When it's time to set up shop, Valedan pulls bottles of ink out of a beat-up suitcase.  Behind him, the kitchen sink drips. He draws Jonathan's tattoo freehand, glancing at his drawing to make sure he's still on track. He still doesn't speak much, but when he does it is tinged with a thick hometown accent. He shaves a spot on Jonathan's left thigh and spends the next two hours working meticulously, passionately. He's careful to shade each cloud bubble just enough and keep a steady hand while drawing tails on the rain drops. He says the most popular tattoo he does is skulls.
"It's starting to hurt?" Valedan asks.  The contorted look on Jonathan's face answers.
"I don't have a heavy hand," he assures the client.
As he works, neighborhood residents wander in and out of the store.  Occasionally, they thumb through the homemade binders of pictures ripped from the pages of popular tattoo magazines. A teenage boy from the neighborhood walks into the shop. He just came back from a trip to Puerto Rico and wants his second tattoo. The two speak in hurried Spanish and the younger boy points to his upper arm. He circles a patch of flesh with his pointer finger, indicating the future home of his new ink. Valedan nods, speaks little and continues with his work.  The appointment is made.
"I'm gonna make fliers soon," store owner Clyde Peterson explains.
This can be done only after the store gets proper licensing. And with a used bar of body soap as a disinfectant, the license may have to wait. For now, cleanliness is not top priority.
His customers don't seem to mind, most come by word of mouth or walk-in. Valedan's prices are much lower than most—Clyde's 20-year-old son, T.J., plans on getting a full sleeve for the "family" discounted price of $400. A local competitor quoted close to$900 for the same work.
Valedan's next job is designing a piece for a proud father, a portrait of his young son.
"He came in and he didn't have a picture, so I drew the boy as he was sitting there," he says.
He shows his drawing of the boy, who couldn't be more than 5 or 6, with light penciled into his eyes.
Alexis Valeden makes due with what he has. He may not have a shop like the one in Puerto Rico, but he has some paint and a friend willing to offer him a place to work. And while he doesn't have a picture of that child, the child will have a place on his father's shoulder when Valedan is through.
Keeping up with Clyde
Clyde Peterson is a man of many talents. Store owner, designer, contractor, and fixer-upper, Peterson gives insight on his theory of life–never stop moving. Be it remodeling a home, piecing together an outfit set or shopping for dresses for the perfect lady, he won't stop until his work is complete. Now about that lady…
https://vimeo.com/20473265]