Fishtown's old souls brew Folgers and dip their sugary doughnuts in a coffee cup full of whole milk and granulated white sugar.
Other Fishtowners take a more dietary-conscious approach.  They see this morning ritual as a lifestyle choice and expect more from their daily wakeup routines.  Their doughnuts are made with flaxseed and soy rather than eggs and milk.
It is hard to keep every resident happy, especially as restaurants and cafes become more aware of special nutritional needs and lifestyle choices.  With an understanding for the demands of the market and the desire for coffee and food, Fishtown serves its new vegan community with friendly service and menu choices.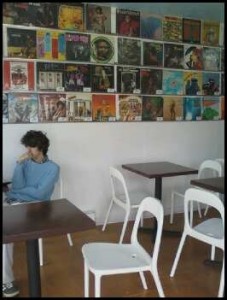 "It's a bummer because a lot of times when you have special dietary needs or dietary choices, not everybody's accommodating, especially since this is definitely more of a blue-collar, meat-and- potatoes neighborhood," said Adam Porter, owner of Milkcrate Café on 400 East Girard Ave. at Columbia Street.  "So it's really cool there are a lot of younger people that are here that are more vegetarian/vegan."
Porter recently opened Milkcrate Café on Sept. 29, adding to the niche cafes that accommodate vegan consumers.  While he does not have vegan options on the menu just yet, he realizes this is not merely a trend anymore but a quickly growing demand.
"We had a guy come in the other day ask me about vegan or soy cream cheese," said Porter.  "And that's something that will be in the works hopefully by next week.
"The main focus is that vegetarians and vegans have at least a couple of options," he added.  "Right now it's more of the traditional coffee shop fare, but [a vegan menu] is definitely something that's high on the radar."
When most people think of vegan goods they tend to see them as being hard in texture and lacking in flavor.  Such impressions can be hard to break; after all, how good can it taste if it is healthier for you?  Since vegan bakers omit dairy products, they also eliminate most of the fat found in oils and butter that give baked goods their texture and flavor.
These frayed perceptions have begun to diminish with the appearance of more vegan baked goods in Fishtown cafés.
"Most of the vegan goods we sell are really good," said Shannon Boyles, an employee at the Rocket Cat Café.  "Even people who aren't vegan will eat them."
Rocket Cat Café sells Northportfishington Cookie Company treats.  The founder, Mike Landers, a self-taught vegan baker and Fishtown resident, noticed the rising trend and popularity of vegan baked goods and started the company, which is quickly expanding as demand continues.
This demand for vegan treats surpasses Fishtown and extends into its sister neighborhood, Northern Liberties.
"We get a lot of requests for vegan treats in this neighborhood," said Annelise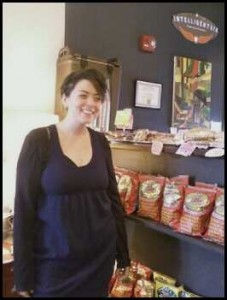 Martinez who works at One Shot Coffee, at 1040 North Second St.
She said that the growing trend in the vegan lifestyle has come with the change of the neighborhood itself.
"I think it comes with the influx of the gentrification of the neighborhood.  The scene of the neighborhood has changed so much in the last two years."
With breakfast taken care of, how about an afternoon burger?  Phyllis Farquhar, owner of Sketch, offers vegan burgers and milkshakes at her restaurant on 413 East Girard Ave.
Farquhar said that offering vegan food is a smart business choice.  "I am a capitalist and if I can get more customers by selling [vegan food], I will," she said.  "I have no interest politically, culturally or health wise.  I just want them as customers."
As a businesswoman, Farquhar knows what her customers want.
"If you don't offer [vegan options] you'll really be cutting off a large customer base," she said.
Whereas many cafés customize in light bites and baked goods, Sketch offers satisfying meals for the vegan sweet tooth and rule book.  With a menu listing vegan burgers, milkshakes, ice cream and chili, vegan customers are returning and becoming regulars.
Although providing a variety of options, coffee shops and restaurants are not just places to satisfy your thirst or hunger–they are social networking venues for niche audiences in Fishtown.  They are giant living rooms for the communities they serve.
Farquhar said that along with providing the food they want, she develops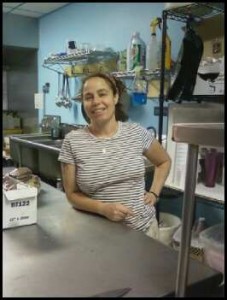 relationships with her customers.
"My customers are very nice people; and I'm not being facetious," she said.  "They're just very nice, down to earth and enjoy themselves."
The demand is definitely there and establishments already in business are adding vegan elements.  Businesses on the rise are catching up quick and might even be ahead of the game, catching the trend at its height.
"I think a lot of people are tired of just eating meat," said Porter.  "There's people who really want to live healthier and a lot cleaner too, so I think that's something that's going to be popping out. "
"Even though I'm a carnivore, I'm down with my veggie people."
The coffee house culture of the past has definitely changed in Fishtown.