Philadelphia is known for having some of the most passionate, dedicated and brash sports fans. This list highlights the most fervid sports enthusiasts in the Big Five.
Joost Charlow: University of Pennsylvania
The University of Pennsylvania is known for being one of the finest institutions in all of academia, but it's Ivy League students are also some of the loudest in the Big Five.
Enter Joost Charlow (pictured left above). The loud and obnoxious supporter of the Penn Quakers has been a member Penn's student section, the Red and Blue Crew, since his early days as a freshman. Whether he's rocking Penn garb or lathered up in body paint, Charlow always brings the noise.
"It's partly my job to get everybody else cheering," Charlow said. "I always really try to start the 'Lets Go Quakers' chant or 'Lets Go Defense' chant and try to be as loud as possible on every possession. I'm definitely the more loud and outspoken type of fan."
Penn's men's and women's basketball teams play at the Palestra, which is one of the most historic venues in all of sports. Built in 1927, the Palestra is coined as the Cathedral of College Basketball. Having the luxury of rooting on Penn inside such a storied arena brings out the best in Charlow when he roots on the Quakers.
"It's really almost indescribable," Charlow said. "I grew up in New York and I actually grew up watching a lot of Columbia basketball. I had gone down to Philly during grade school and high school to go to Penn/Columbia games. There's something about the history that's in that building that very few people really realize," he added.
Charlow is currently the chair of Gameday Operations and Special Events for the Red and Blue Crew.
Kevin Feinberg: Temple University
When referees make a questionable call, Kevin Feinberg will be the first one to bark at the men in stripes and voice his displeasure. When it comes to Temple athletics though, Feinberg is all about loyalty.
"I try to label myself as more of an optimistic fan and support the team," he said. "I don't really like pulling the team down, because if you pull them down… it doesn't do much for the team."
Feinberg has always been a passionate sports fan. As soon he enrolled at Temple University, he was able to exude his spirit with the Cherry Crusade.
"It's just something that always interested me in college," Feinberg said. "My dad went to Temple so I've always been a fan of Temple athletics. I wanted to get involved and be on the front line of being one of those crazy fans."
A sports and recreation major, Feinberg has always kept a keen eye on the world of sports, but he takes special pride in supporting the cherry and white. He has a designated post in the front row of the student section at the Liacouras Center and Lincoln Financial Field.
The Cherry Crusade has become a tight knit group over the years and because of that, it's one of the best student sections in the Big Five, thanks in large part to Feinberg.
"No matter what the performance of the team is, it's still fun to be out there with our friends," said Feinberg. "Most of my friends I have I met through the Cherry Crusade. All the guys I live with are apart of it. It's just fun to go out there. It's a break from school work. Even just meeting new people. Essentially you're out there supporting students who are also students at your university."
Feinberg also runs the Cherry Crusade's Twitter account and website.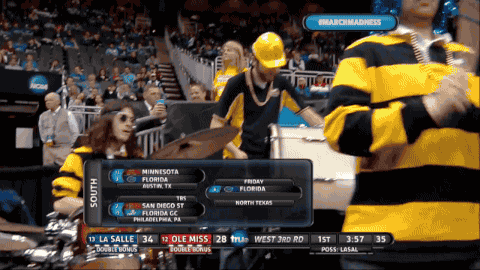 Dean Welsh: La Salle University 
It was during his freshman year that Dean Welsh was looking for something time consuming. He had always loved music, especially playing the drums, but he wanted to do something with it. Welsh then decided to become the drummer for La Salle's Spirit Squad and student section.
"I went out and [sought] it myself because I was a drummer for a while and figured it would probably be good for me to do an activity It's fun to go to the games too and I actually really enjoy it," Welsh said.
With the long hair of a rock star and vibrant outfits, Welsh has become recognizable face on campus. When La Salle made a run to the Sweet 16 in the NCAA Tournament in 2013, Welsh became an internet sensation.
When Welsh beats the drums and rings the cymbals, the student section often follows with chants. But when he's not rocking out inside the arena, he's a diehard fan.
"I'm always the guy that is screaming, which is really cool for La Salle because we don't have a big [arena], so everybody can hear me and it gets kind of obnoxious, but it's a good time," Welsh said. "I'm the arrogant fan. The loud fan. The fan that says things that probably he shouldn't say and that definitely epitomizes what it's like to be a Philadelphia fan."
Julia Clay: Villanova University 
Since 1982 the Villanova Wildcats Men's Basketball team has advanced to eight Sweet 16s, six Elite Eights and two Final Fours including a victory in the 1985 National Championship. Julia Clay's family has been around to see much of the success and it's a family tradition that dates back decades.
"I've been going to Villanova basketball games since I was born because my whole entire family is a huge Villanova family," Clay said. "My parents went to Villanova. My dad is one of 10 kids and all of them went there, and then both of my grandfathers were really involved in Villanova," she added.
Clay's father attended Villanova as a student when the Wildcats won the national championship and she is hoping she can get just as lucky.
"The last couple of years have been very good and it's been really exciting to be at Villanova during that time," Clay said. "My dad was at Villanova when they won the 1985 championship, so that'd be awesome if I could have that too."
Regardless of wins and losses, Clay attends every men's basketball game, including select road games and you won't ever see her hitting the exits until the clock reads 00:00.
"I'm always supportive," Clay said. "I go to every game and I stay until the end even if [Villanova] is up by a lot or definitely going to lose."
Clay also named her kitten Rollie after Rollie Massimino, who coached the 'Cats to their lone title.
Will Cronen: Saint Joseph's University
Saint Joe's has garnered much attention over the years because of its infamous mascot- a hawk that never stops flapping its wings. Hence why the motto of the Saint Joe's fan base is "The hawk will never die."
Will Cronen's fandom will never die either. Cronen is the co-president of the 54th Airborne, the official student section of the Saint Joe's Hawks. Cronen attends every men's and women's basketball game and embraces the opportunity to let his voice reverberate through Hagan Arena, but always in a positive manner.
"One of the main goals that we set with our executive board that's leading the student section, is that after leaving a game, not having a voice left," Cronen said in a raspy tone following a women's basketball game.
"I'm more of the supportive fan," he explains. "Even if the other team is going on a run, constantly yelling words of encouragement, getting the team more involved to focus on the next play and get on a run themselves.
– Text by Chase Senior and Nick Gomberg. Images courtesy of the subjects. GIF via Bleacher Report.